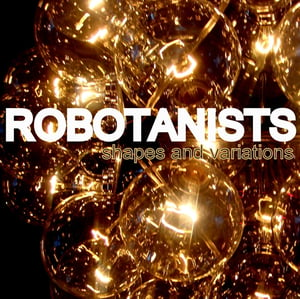 $

8.00
THE PRODUCT ON THIS SITE IS SOLD OUT. CLICK HERE FOR OTHER RETAILERS
SHAPES AND VARIATIONS is a collection from ROBOTANISTS, of covers, reharmonized and rearranged to paint an aural portrait of all that they love about Los Angeles...
"Joe Jackson's classic ["Are you really Going Out With Him"] gets a gender bend and couldn't sound sexier. "Dance, Dance, Dance" is reworked to the point if you didn't know any better you'd assume Lykke Li was covering them. Seriously go compare the two... the band was challenged to make the most overplayed songs listen-able again. They rose to the challenge and then some." INTRAFFIK.com
"Robotanists do a great job of creating the soundtrack to your life in LA... "Never Tear Us Apart" is "the stand-out track… Aside for this being a great song to begin with, the Robotanists give it a sweet and soulful makeover, complete with Casio tones, driving drums, and a lonely and powerful guitar solo. The song comes crashing down at the end like the INXS version never did, but you always expected it to. Effects and all – they find the soul of this song and expose it for what it is, a heart-wrenching song about the pain of loving so much it hurts." LABUZZBLOG.com
CLICK HERE TO READ MORE REVIEWS!
Featuring:
1. Exiled State of Mind (Jay-Z Feat. Alicia Keys)
2. Dance Dance Dance (Lykke Li)
3. Are You Really Going Out With Her (Joe Jackson)
4. All You Ever Wanted (The Black Keys)
5. Heaven (Bryan Adams)
6. Never Tear Us Apart (INXS)
7. Glass in Your Headlights (Phillip Glass)
These are hand numbered limited edition discs. Once sold out, this will be a DIGITAL ONLY release.
ALSO AVAILABLE @ THESE DIGITAL RETAILERS:

(we get 100% of the digital proceeds!!!)

+ OTHER MAJOR DIGITAL RETAILERS WORLDWIDE
Also available at AMOEBA RECORDS in Hollywood, and other limited West Coast retailers.
*************************************
ALBUM UPC: 643157403555
DIGITAL UPC: 884385698614
CATALOG: OVR002-IR40355
*************************************
CLICK HERE TO LISTEN NOW!